Taking over the entire household seems like a never-ending task. And it is, in a way. All those piles of dishes, wiping, dusting, mopping, and polishing suddenly appear like the biggest life trap people fall into. And the truth is most don't even enjoy home maintenance. But is there a solution to spending an unbalanced amount of time on housework and speeding up the entire process a bit? 
The good news is – there is. However, you have a choice between several options. The first and the safest one is to outsource the task to professional house cleaning services in Huntersville, and reclaim your free time. The other option is to keep on reading and learn time-saving tools that will help you maintain your home on your own more efficiently. Let's dive right in!

What is the speed cleaning method?
Here's a rundown of major time savers that will help you tackle regular household chores in record time:
Rule #1: Don't backtrack
Unless you want to spend hours on housework, know how to make the most of your time and achieve maximum efficiency. This way, you'll never have to do something twice and waste your time and energy in vain. In case you get distracted easily, make sure you know what your plan is before you start to avoid frequent trips across the entire house. 
Rule #2: Use the right tools
The success of the speed cleaning method depends greatly on the right equipment. To cut the regular home upkeep in half, you need safe agents to help you out. Make a list of all supplies you need before you start: microfiber cloths, sponges, cleaning brushes, vacuum, duster, mop and a bucket, protective gloves, all-purpose cleaners, etc. 
Rule #3: Work from top to bottom
If you're on the mission to cut cleaning time to shreds, try to avoid common time-wasting mistakes, and use techniques that will help you get the job done quickly. There's a simple explanation why people prefer the top-to-bottom technique: dust and dirt particles are subjected to gravity. This means that starting with the top surfaces and working your way down to the floor is the most efficient way to avoid backtracking and clean your place to completion. 
Rule #4: Focus on the big picture
To deal with the big picture effectively, allow yourself to shift your focus from small tasks and skip them altogether. For instance, it's more effective to vacuum and dust the whole area than to spend hours on treating knickknacks nobody will notice except yourself. 
Rule #5: Multitask your chores
Handling multiple duties in one go will maximize your productivity and reduce the workload. Once you have all your tasks written down, it's much easier to see if they can be performed simultaneously or at least semi-simultaneously. For example, wiping down countertops while soaking dirty dishes, or vacuuming the floors while waiting for the laundry cycle to finish.
Rule #6: Keep supplies on hand
Improving your routine is quite simple. Just hold tools and supplies at your fingertips, by keeping them in a box, tote, caddy, or bucket as you go. Having all the necessities in one place will get through the cleanup easily, without searching for items in the middle of the scrubbing.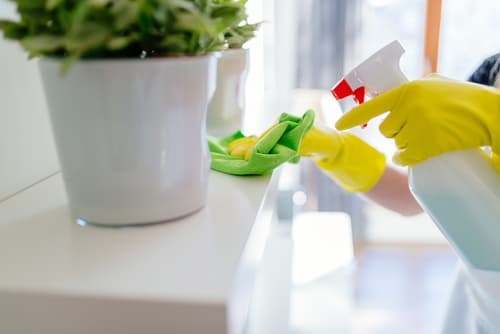 Who provides comprehensive
house cleaning services in Huntersville, NC
, and beyond? 
You're wondering how to eliminate household dust, dirt, and other gunk around your home? Or perhaps you're searching for advanced professional help to give your home a thorough scrub and minimize your daily chores list? You're at the right place! Dust and Mop will come up with a custom cleaning plan that addresses all your specific needs and concerns. 
Our team of seasoned and extensively vetted professionals is at your service, no matter if you're located near Latta Plantation or elsewhere in Mecklenburg County. They will go above and beyond to provide you with the highest industry standards and a comfortable cleaning experience. 
Give us a call today and get the service you deserve!