Although most people you know tackle their household chores just occasionally, handling housework as effectively as possible means breaking bad habits and maximizing your efficiency. A little resourcefulness and a few expert shortcuts is all it takes to find a long-lasting solution to a messy home. As a result, you'll have a presentable house every time your friends unexpectedly pop up. 
However, if you're not willing to tackle this task on your own, consider hiring advanced house cleaning in Huntersville to help you out. Read on to learn more!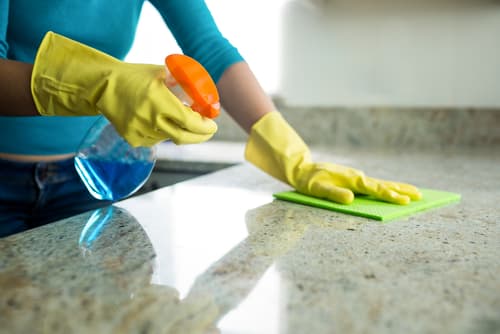 How do you clean a messy house in one hour?
To give your home a super-quick fix, follow these easy steps and you can't go wrong:
1. Go one room at the time
If you're looking for a clever way to combat a cluttered home, being strategic is the key. Start with more challenging areas first, such as the kitchen and bathroom, and then move on to your living room and bedroom. To save time running between rooms, remember to pick up the scattered items as you go and sort them out where they belong. This will cut the time you usually spend on tidying and will make you feel more accomplished.
2. Keep everything in place 
There are clutter hotspots in every house and areas that somehow seem to get messy easier than others. Just take a look at all the flat kitchen surfaces and areas by the sink, or living room floors and a coffee table. Not to mention the chaos under the bed, or behind the sofa. All that medicines, papers, toys, coins, makeup products, pens, gadgets, forgotten remote controls, books, and other clutter magnets. Take a bit of your time to gather them in one place and determine what can be kept and stored. 
3. Do general dusting and vacuuming 
Once you've decluttered, it's time to make your home shine again. Since these are the basics of regular home maintenance, don't try to rush the process. In fact, this is the point where you can trust the "slower is faster" concept and ensure your presence. Getting rid of dust and dirt build-up will set an orderly tone for your home and give it a fresh look in no time. 
4. Use homemade products
Since many homemade solutions involve only a few ingredients you probably already have in your pantry, there's no need to waste your time purchasing commercial agents. Simply combine equal parts of warm water and distilled white vinegar and it will do the trick on just about anything. The same goes for baking soda and lemon mixture, which works like a natural bleaching agent. 
5. Take the garbage out
Don't get caught by one of the common housework pitfalls and forget to take out your family's garbage output. There's a direct link between garbage accumulation and risks of infectious diseases, particularly in the kitchen. This is where bacteria and germs can spread from one surface to another without even noticing it. 

Who offers expert
house cleaning in Huntersville, NC?
Are you looking for extra-detailed house cleaning to set your house in perfect order? Or perhaps regular home upkeep is getting too much for you and you need expert advice on getting back on top of chores? Dust and Mop House Cleaning is here to offer advanced cleaning solutions tailored to your needs. 
Thanks to years of expertise, we pride ourselves on delivering the highest industry standard and 100% customer satisfaction guarantee. This means you can count on our expert team to cover every inch of your home up to your expectations, whether you live near NorthStone Country Club or elsewhere in the area. 
Give us a call today and book your appointment!