Is your home in need of a little extra love?  Our Initial or One Time cleaning will get your home in tip-top shape.  And the best part, you don't have to lift a finger to get it that way.  Are you ready for a spotless house?
Our One-Time and Initial Cleaning service brings lasting freshness
Every house contains some stubborn stains, resilient buildups, deep grime, and hard-to-reach surfaces that just can't be tackled during a regular housekeeping. As the leading providers of deep house cleaning service in the Raleigh and Charlotte areas of North Carolina. Dust and Mop House Cleaning is superbly equipped to provide you with extra-meticulous cleanings that will make your home look spic-and-span before you know it!
Fully customizable deep house cleaning service in Raleigh & Charlotte Areas
Is your home in need of a little extra love? Dust and Mop House Cleaning offers two options for your one-time or initial cleaning: our budget-friendly General Cleaning or our super-detailed Top-to-Bottom Deep Cleaning.
Our General Cleaning is an economical way to get your home in Raleigh or Lake Norman expertly cleaned. We will deep clean your kitchen, sanitize bathrooms, make beds, thoroughly dust the entire house, and mop and vacuum the floors. Lastly, we'll make sure all frequently-touched surfaces such as doorknobs, tabletops, light switches, and the like are disinfected. When we're done, everything will smell fresh and be spotlessly clean!
One-Time or Initial House Cleaning
Is your home in need of a truly extensive spring cleaning? If so, get in touch with Dust and Mop House Cleaning and book a One Time Cleaning or our Initial Cleaning, which is for customers who are going into a regular recurring service.   These two cleanings are our most thorough and comprehensive option. We'll break out the detailing brushes and get your home sparkling clean. We'll even hand wipe all the baseboards! To achieve this high level of service, this cleaning takes more time than a regular recurring house cleaning service.
We offer various service extras
Here at Dust and Mop House Cleaning, we enable our clients in Raleigh and Charlotte to further optimize their deep cleaning service by adding optional extras. These include changing bedsheets, cleaning the inside of the oven and the fridge, cleaning carpet edging, vacuuming furniture, cleaning the interior of windows, and more.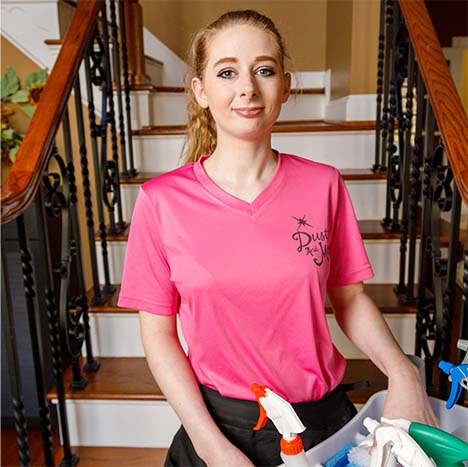 Our Initial or One-Time Cleaning service prioritizes your satisfaction
We don't believe in doing a "good enough" job. We want you to be so happy with the maid service you received from us that you'll immediately want to become our loyal client and recommend us to your friends and neighbors in Raleigh, Lake Norman, and the area. One of the ways we do this is by providing prompt and free recleans for any concerns reported within 24 hours. When you hire Dust and Mop House Cleaning, you'll always get your full money's worth!
Frequently Asked Questions
Ready for a Spotless House?
Book Your Cleaning Today!