Moving is one of the most overwhelming and anxiety-producing evens in our lives.  It's hard enough to do the packing and moving, why take on the cleaning too?  Dust and Mop offers both move in and move out cleaning services to make your move as easy as possible.
Our move-in/out cleaning services are also available in Charlotte! Click below to learn more:
An extensive move-out/move-in cleaning keeps the stress away
Moving is one of the most overwhelming and anxiety-producing events in a person's life. In addition to packing, updating your IDs, looking for a new job, and getting used to a new neighborhood or even city, you also have to make sure our old and new homes receive a top-to-bottom cleaning prior to your big moving day.
Luckily, we can provide you with comprehensive move-in/out cleaning services that will make the transition easier and take the hassle right out of your move in the wider Raleigh area, including Morrisville, Fuquay-Varina, Holly Springs, Apex, Charlotte, Lake Norman, and Cary.
We make moving easier with our move-in/move-out cleaning services in Charlotte & Lake Norman
Whether you're moving out of a rental in Fuquay-Varina, putting your old home in Morrisville or Apex up for sale, or you've recently bought a new place in Cary, Lake Norman, or Holly Springs, you can't go wrong by booking our exhaustive move-out/move-in cleaning services. They include full sanitation of all surfaces (kitchen, bathrooms, doors, woodwork) as well as wiping out the interiors of cabinets and drawers.
To ensure you get exactly the cleaning service you want, Dust and Mop also allows you to customize your checklist by adding various extras such as oven degreasing, fridge interior cleaning, and more.
Carefully selected crew & premium equipment
As a company that's been hitting all the right notes for the past 15 years, we've acquired invaluable experience and perfected our move-in/move-out cleaning service in Raleigh and towns throughout Wake County, including Apex, Holly Springs, Cary, Lake Norman, Fuquay-Varina, and Morrisville.
We carefully pick only the best-qualified cleaners with plenty of experience, know-how, motivation, and the ability to adapt to our demanding working culture. We conduct thorough background checks and train our specialists to get them up to speed with our unique service methods and the finest tools around. All members of our team are bonded, licensed, and insured for your complete ease and convenience.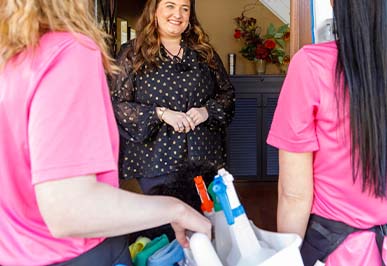 We're not happy unless you're happy
Here at Dust and Mop, we believe the only correct way to do business is to always maximize the value we bring to our customers. Should you ever be dissatisfied with some aspect of our move-in/move-out cleaning services, please alert us within 24 hours. We'll promptly send a follow-up crew to your property in Raleigh, and the surrounding places like Morrisville, Holly Springs, Cary, Fuquay-Varina, Lake Norman, and Apex to reclean the problematic areas completely free of charge. We're not exaggerating when we say our clients' happiness is our top priority!
Frequently Asked Questions
Ready for a Spotless House?
Book Your Cleaning Today!