Our Premium House Cleaning Services




Let us use our years of house cleaning experience, skilled employees, and advanced procedures to provide you with a clean and healthy home. Most Importantly, the house cleaners at Dust And Mop House Cleaning are professionally trained and provide excellent customer service to ensure a wonderful experience for each client. Our amazing office staff is here to support our customers with their changing needs in the Raleigh and Lake Norman areas. Contact us now and see what makes us so special.
Weekly
Biweekly
Monthly
100% Satisfaction Guaranteed
One-time Cleaning
Starter Service for Recurring
Deep Detailed Cleaning
Professionally Trained
Empty House Cleaning
Clean Out Cabinets
Clean Out Drawers
Wipe All Surfaces
Why Book Our Maid Service in Raleigh
Why book our maid service in Raleigh. When you rely on our house cleaning professionals in Raleigh and the surrounding areas, you can count on us.
Background checked staff
Trained house cleaners
Free online quotes
Assigned customer specialists
100% satisfaction guarantee
Amazing customer service
A high-quality cleaning every time
Why We're the Best Choice for House Cleaning in Raleigh
At Dust And Mop House Cleaning, we work exclusively with trustworthy, dependable, and friendly professionals who keep your best interest in mind.
Each cleaner on our team has passed our rigorous background checks as well as our excessive training program. In addition, all of our cleaners are fully insured and bonded for your peace of mind.
We strive to eliminate any doubts you may have about hiring a house cleaning service in the Raleigh region and provide you with a tailored experience that perfectly matches your needs.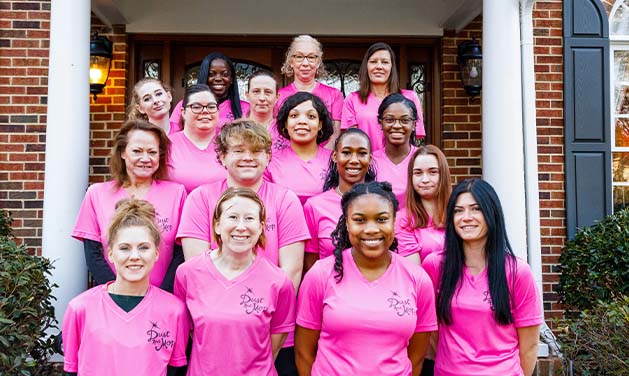 What Our Clients Say About Our House Cleaning Services
Our clients' feedback matters to us. Check out what they have to say about the results they got.
They did an amazing job! The house was way over do for a deep cleaning. I have 3 dogs and they did an awesome job getting the dog smell out and making it that much more ready to sell. I will definitely refer them and use them in the future. Thank you again for helping me out, especially during this pandemic!
I've been having Dust and Mop clean my 2100 square foot home for many years now. I chose them because they assign one person who would be my cleaner each time. I liked that I wouldn't have a lot of different people in my home and that I could get to know my cleaner. The business is very responsive and well run by a few women. They value their customers and their employees. My current cleaner, Patti, is always on time and does a great job. I always look forward to her visit.
Always on time, professional and do a great job! Thank you Shirley for the cleaning this time as we had company and the house was in much more disarray than usual
Dust and Mop is a great company. Everyone is so friendly and very accommodating. The crew always does a great job and especially on our move out clean. It took all the worry out of my moving to know that the house was in good hands to get ready for the new owner. Thank You!
Dust and Mop is truly one of the best companies I have had the pleasure to work with. Charlene does a wonderful job scheduling us and finding the exact service we need for our home. She is responsive, organized, and a joy to speak with. Darlene cleans our home. She is beyond amazing. I cannot say enough good things about her. Darlene always exceeds my expectations cleaning my home. I have very high cleanliness standards and she wows me. She is always one of the kindest, sweetest, just genuinely amazing people that I know. Dust and Mop is reliable, do a fantastic job, are reasonable priced, and genuinely fantastic people
I had a cleaner scheduled for a move out clean of my 1800 square foot house but they cancelled the morning of. I was scrambling to see if I could find a last minute cleaner and remembered that I had heard about Dust and Mop. I called at 8:30 am and they were able to send 1 person at noon and another at 1 pm. Such a relief. Now I'm ready to turn over the keys to my landlord.
Patricia and Deidre arrived on time and with a smile! I wanted and needed a "deep clean" and I got it! My house is clean, smells fresh and looks wonderful! These ladies worked hard humming while they worked, smiling, not hesitant to ask clarifying questions and left a very happy home owner behind. I have already called to book them back at my house. I wish I had called Dust and Mop sooner! Ladies, thank you so much!
Dust and Mop did a great job! I had a budget I needed to work with and they helped make sure that I got the most out of my time with the cleaners. They scrubbed and cleaned areas I hadn't been able to get clean. My bathrooms sparkle! My house smelled amazing when I got home!
Frequently Asked Questions
Ready for a Spotless House?
Book Your Cleaning Today!