Cleaning the bathroom may not be the most exciting chore, but it is undoubtedly one of the most important of all house cleaning services available, significantly impacting your overall wellness levels. Recognizing these benefits can serve as motivation to maintain a regular bathroom and housekeeping schedule, creating a space in Raleigh, NC that's not only neat and healthy but also enjoyable to use. 
Understanding why a sanitized bathroom matters can motivate us to keep up with this essential chore, promoting better health, enhanced comfort, and a more pleasing home environment.
What are the main reasons to clean the bathroom?
Maintaining a tidy bathroom is an integral part of home care, yet this often-unloved task can easily slip to the bottom of our to-do lists. However, regular bathroom cleaning has numerous benefits that go beyond aesthetic appeal. Here are 7 compelling reasons why you should prioritize the hygiene inside your bathroom.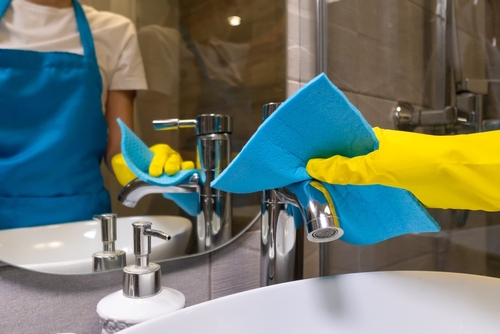 Health and hygiene
The bathroom can quickly become a breeding ground for germs, bacteria, and fungi due to its typically moist and warm environment. By cleaning your bathroom regularly, you can significantly reduce the presence of these harmful microorganisms, lowering the risk of health issues such as infections, allergies, or even disease.
Prevention of mold and mildew
The damp conditions of a bathroom are a perfect breeding ground for mold and mildew. These can not only damage surfaces but also cause respiratory issues, particularly in individuals with allergies or asthma. Regular cleaning can help keep mold and mildew at bay, ensuring a healthier environment.
Prolonged lifespan of bathroom fixtures
Regular cleaning helps to maintain the condition of your bathroom fixtures and fittings. Soap scum, hard water stains, and grime can cause damage over time, leading to expensive replacements or repairs. If you take care of your bathroom regularly, you're actually investing in the longevity of its components.
Improved overall aesthetics
A clean bathroom simply looks better. It's more inviting, comfortable, and contributes positively to the overall feel of your home. Recurring cleaning ensures that surfaces shine, mirrors are streak-free, and the space maintains a fresh and pleasing appearance.
Better indoor air quality
A dirty bathroom can lead to unpleasant odors and poor air quality, which can affect the entire house over time. Cleaning, including proper ventilation, can drastically improve the air quality in your bathroom, making it a more pleasant place to be and improving your home's overall atmosphere.
Fostering a relaxing environment
The bathroom is more than just a utilitarian space; it's where we start and end our day – brushing our teeth, taking showers, and sometimes indulging in relaxing baths. A clean bathroom helps to promote a sense of calm and relaxation, turning your daily routine into a more enjoyable experience.
Boosts mental well-being
Believe it or not, a clean bathroom can positively influence your mental health. Studies have shown that a sanitized and organized environment can reduce stress and anxiety levels. When your bathroom is fresh, it feels less chaotic, allowing you to start your day in a peaceful and orderly manner. This sense of tranquility can improve your mood, increase your productivity, and overall, contribute to better mental well-being. Cleaning your bathroom might seem like a small act, but its impact on your daily mindset can be substantial.
Who should I turn to for reliable housekeeping in Raleigh, NC?
Why lose time and money trying to find the equipment needed for a thorough spiff-up, or waste energy trying to avoid customary bathroom cleaning errors, when you can call Dust and Mop and let our professionals spruce up your abode with the use of the best homemade cleaning supplies.
Spend some time with your family at Pullen Park while our trusted and diligent team takes care of every corner of your residence and ensures that your loved ones can enjoy the full comfort of your refreshed home. Contact us today!