The bathroom, arguably one of the most used rooms in the home, is also a space that demands meticulous cleanliness. A clean and sanitary bathroom not only contributes positively to the overall aesthetics of your home, but also plays a vital role in maintaining the health and well-being of your household. Yet, the path to a pristine bathroom is often littered with common mistakes that can, at best, render your cleaning efforts ineffective, and at worst, cause long-term damage to your bathroom surfaces and fixtures.
Even though professional maid services in Raleigh, NC have the requisite know-how and ample experience in all types of cleaning, we appreciate that some people would like to try their hand at bathroom cleaning so we've provided a quick but thorough guide on what not to do in those instances.
What should I avoid doing when cleaning the bathroom?
Maintaining a clean bathroom is essential not just for aesthetic purposes but also for health and hygiene reasons. Many of us, in our quest for sparkling tiles and gleaming mirrors, tend to repeat certain errors, primarily because we are unaware of their impact. The goal is to help you ensure that your cleaning routine is not just efficient, but also effective in maintaining a fresh, hygienic bathroom space. Let's explore 10 of these common mistakes and learn how to avoid them.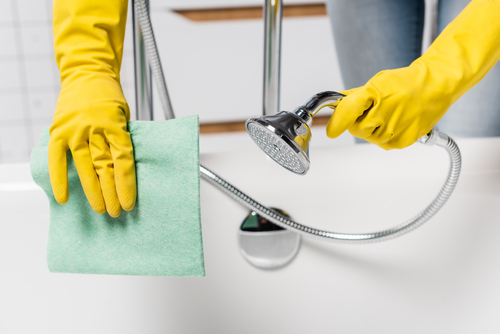 Using one cleaner for everything
Not all surfaces are created equal. Different materials demand different cleaning solutions. For instance, acidic cleaners can damage marble or limestone surfaces, while bleach can discolor certain metals and dyes. Read labels carefully and ensure you're using the right cleaner for each surface.
Not allowing cleaners to soak
Most bathroom cleaners need time to work effectively. Spraying and immediately wiping away doesn't give the cleaner time to break down grime, soap scum, or mildew. Always follow the directions on the cleaning product and allow the prescribed soak time.
Ignoring the exhaust fan
The exhaust fan plays a significant role in preventing mold and mildew in your bathroom, but it's often overlooked during cleaning. Dust and grime that collect on the fan can affect its performance. Make sure to clean it periodically using a vacuum with a brush attachment.
Forgetting the shower curtain
The shower curtain can accumulate soap scum and mildew. Don't neglect this important bathroom component; instead, clean it regularly. Most plastic or vinyl shower curtains can be cleaned in the washing machine on a gentle cycle.
Leaving wet towels around
Wet towels can become a breeding ground for bacteria and produce a musty smell. Ensure towels are hung up to dry after use and wash them regularly.
Not cleaning the toilet brush
The toilet brush is instrumental in keeping the toilet clean, but often, we forget about the brush itself. After using, rinse the brush with hot water and let it dry completely before storing it back in its holder.
Not cleaning light switches and door handles
Light switches and door handles are high-touch surfaces that can harbor germs. These should be cleaned regularly with a disinfectant wipe or a cloth sprayed with a disinfecting cleaner.
Neglecting the grout
The grout between tiles can easily become a hotspot for mold and mildew. Use a grout cleaner and a small scrubbing brush to keep your grout looking slick and clean.
Not regularly emptying the trash can
A full trash can can lead to unpleasant odors and bacteria growth. Regularly emptying and cleaning the trash can is a simple way to maintain a cleaner, fresher bathroom.
Avoiding deep cleaning
While regular spot cleaning is important, don't neglect a deep clean. Every so often, spend some extra time and effort to deep clean your bathroom – this includes washing rugs, cleaning inside drawers and cabinets, and scrubbing down the bathtub or shower.
Who should I choose if I need reliable maid services in Raleigh, NC?
Whether you're not sure why bathroom sprucing up is so important, or you need information on which tools you need to spiff up your bathroom, or maybe you'd like to know more about DIY bathroom cleanup supplies that work, at Dust and Mop we have you covered and then some.
With our vetted and trained pros at the helm, you'll have money to spare and more time to engage in activities you never had time for before. Feel free to visit the North Carolina Museum of Art and unwind while we make sure your place is gleaming and crisp. Call us today!