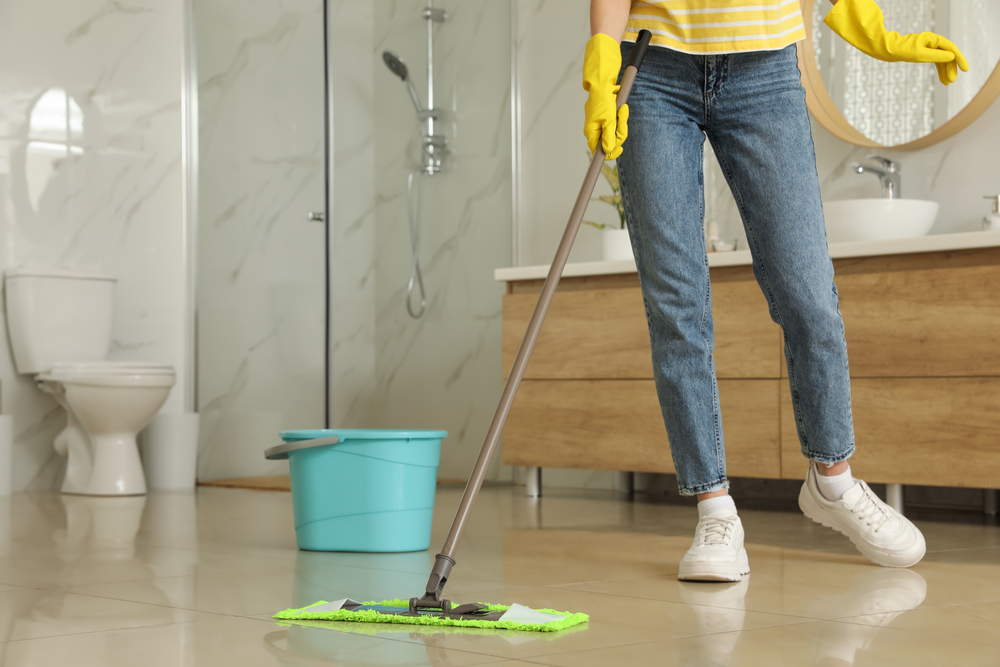 Taking care of the bathroom is a task we all want to get over with as quickly and efficiently as possible. But did you know that many commercial cleaning products contain harsh chemicals that can be harmful to your health and the environment? Fortunately, making your own DIY bathroom sprucing supplies is a great way to keep your powder room sparkling clean while also keeping your household neat, safe, and eco-friendly.
While we appreciate that the best way to ensure that your washing space is sanitized up to the highest standard is to call a trusted residential maid service provider in Raleigh, NC, today we'll explore eight of the best DIY bathroom cleaning supplies you can easily make at home.
How can I make my own bathroom cleaning supplies?
Creating homemade DIY shower room cleaning supplies is a great way to save money, reduce chemical exposure, and lower your environmental impact. Not to mention, it's rewarding to see the results of working with products you've made yourself. Give these recipes a try and you'll realize that a sanitary water closet doesn't require expensive, harsh, or synthetic chemicals—it just takes a little creativity and effort. Happy DIY cleaning!
Vinegar and water spray
Vinegar is a well-known natural cleaner and disinfectant. Mix equal parts of white vinegar and water in a spray bottle. This all-purpose cleaner can be used on a variety of surfaces, such as countertops, sinks, and mirrors. However, avoid using it on marble or other stone surfaces, as the acid can cause damage.
Baking soda scrub
When you need to scrub away stubborn grime, baking soda is your best friend. Simply sprinkle some onto the dirty area, dampen it with a little water, and scrub away. Baking soda is non-abrasive, so it won't scratch surfaces but will effectively remove dirt and grime.
Tea tree oil mold and mildew spray
Tea tree oil is renowned for its antifungal properties, making it a great natural option for tackling mold and mildew. Combine two teaspoons of tea tree oil with two cups of water in a spray bottle. Apply to the affected areas, wait for a couple of hours, then wipe away.
Lemon and salt grout cleaner
To clean grimy grout lines, mix the juice of a lemon with a tablespoon of salt to make a paste. Apply it onto the grout, let it sit for a few minutes, and then scrub it with an old toothbrush. Lemon is a natural whitener and deodorizer, and the salt will help to scrub away any stubborn dirt.
Citrus vinegar cleaner
Infuse vinegar with citrus peels for a potent cleaner with a fresh scent. Fill a jar with citrus peels, cover with white vinegar, and let it steep for two weeks. Strain the mixture and pour it into a spray bottle. It's great for cutting through soap scum and hard water stains.
DIY cream cleanser
For those tougher spots that need a bit more elbow grease, create your own cream cleanser. Combine a 1/2 cup of baking soda with enough liquid dish soap to achieve a paste-like consistency. Add 5-10 drops of your favorite essential oil for a pleasant fragrance. This cleaner works wonders on tub rings, sink stains, and even tile grout. Apply the mixture, scrub, and rinse for a deep clean that leaves surfaces gleaming.
Toilet cleaning fizzies
Mix 1 cup of baking soda, 1/4 cup of citric acid, and 1 tablespoon of liquid soap. Mold this mixture into small discs and let them dry overnight. Drop one into the toilet bowl, let it fizz up, and scrub for a sparkling clean toilet.
Glass cleaner
Mix one part white vinegar with one part water, and add a splash of lemon juice for a streak-free shine on mirrors and glass that smells nice and adds a touch of freshness.
Where can I find seasoned residential maid services in Raleigh, NC?
If you opt for Dust and Mop, a reliable and hardworking team of sprucing-up experts, you can rest assured that every task, no matter how big or small, will be completed without a hitch. With our 100% satisfaction policy and client-centered approach, you'll always know what you're getting and have absolute peace of mind.
Let us ensure that you stop making the usual powder room mistakes! We'll let you in on the most important reasons to take care of your bathroom sanitation and which tools you need to spiff up the water closet.
Take some time to explore a wide variety of delicate and beautiful plants at JC Raulston Arboretum and we'll maximize your time-out to deliver an expertly scrubbed home for you to relax and enjoy. Contact us today!