Although few people enjoy housework, it's a task that must be done for the sake of your peace of mind. Ignoring clutter and dirt it or can only lead to frustration and stress in the long run. Not to mention that a dirt-packed home can harbor many health dangers, like bacteria and allergens. 
Also, contrary to popular belief, keeping your home tidy doesn't have to be complicated. The easiest way to address the problem is to reach out to reliable house cleaning services in Apex, NC. However, you can also learn ways to do it quickly and efficiently on your own. Keep reading to learn a few expert tips and tricks. You'll soon be ready to handle all chores just like a professional would. 
What are some common do's and don'ts of cleaning?
By following these golden rules of cleaning, you'll make the process effortless and get the job done right.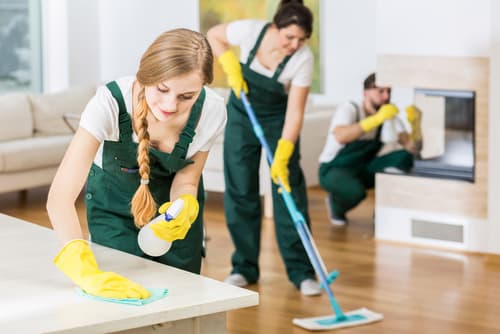 Create a schedule
Great organization can help you optimize your housework. A rule of thumb is to dedicate one day a week for in-depth tasks such as scrubbing the floors or washing the windows while spending another day tidying up and doing laundry. This will help you stay on track, as well as prevent last-minute cleaning frenzies.
Don't wait until your house is cluttered
A bit of effort every day will give your home a full shine. Keep this in mind next time you decide to neglect the household chores until your house is completely messy. 
Go from the top down
It's a good idea to begin by dusting your ceiling fan blades, then the walls, and finally vacuuming and mopping the floor. The reason behind this is s simple: dust tends to accumulate in high places first, then gradually makes its way down towards the ground. 
Carry your supplies with you
This way you will not have to run back and forth to your cabinet every time you need something. Supplies that are especially helpful to have on hand are a dustpan and broom, all-purpose solution, window products, dish detergent, laundry detergent, and a vacuum cleaner. In case you'd like to reduce allergy flare-ups, make sure to choose safer products. 
Don't forget to protect yourself
It's wise to wear safety goggles, rubber gloves, and protective clothing while doing strenuous or difficult tasks, such as scrubbing bathtubs or lifting heavy objects. This way you'll avoid unwanted health issues. 
Make it fun
Play music you love, listen to a podcast, or watch your favorite show while doing chores to make the time fly by. Don't forget to take a break! Housework can be mentally and physically taxing, so remember to take a few minutes every hour to relax and recharge before continuing with the chores.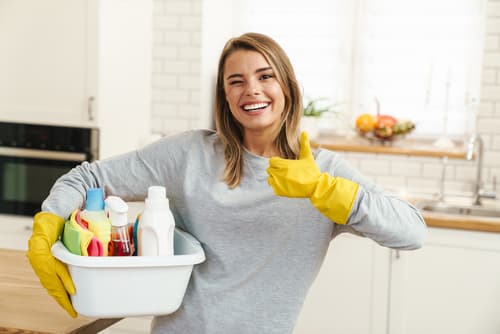 Where can I find the leading providers of house cleaning services in Apex, NC?
Are you concerned about the air quality in your home? Or maybe you can't get motivated to tidy up a messy house? Dust and Mop House Cleaning is here to address different types of residential services and provide you with a variety of customized housekeeping solutions. Whether you live in Apex Historic District or elsewhere in the area, our skilled and devoted team is at your service. No matter the scope of your service, they're professionally trained to meet your unique requirements and freshen up your home.
There's no need to keep convincing yourself that housework is fun – let professionals take over so you can get your valuable time back! Reach out to us today and book your appointment!