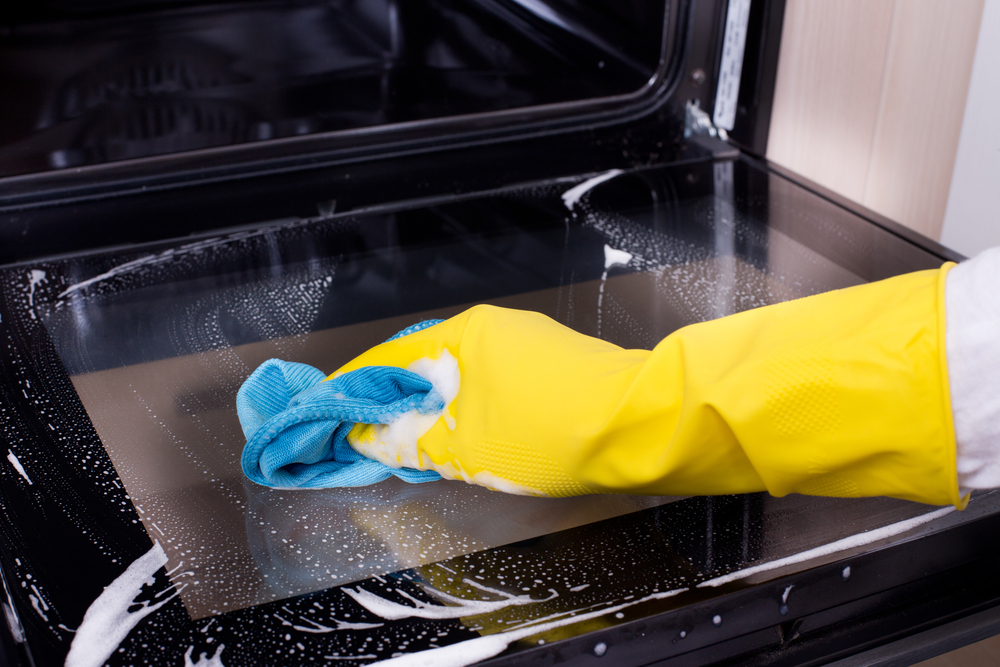 You rely on your oven every day to help you cook delicious food. Besides being one of the most useful appliances, it can also collect piles of grease and dirt. You often hire Holly Springs, NC, house cleaning services to take care of the mess, which is a great decision. After all, even the most skilled homeowner can't clean the appliance as well as the professionals can.
But what if you needed some DIY tips to clean your oven in an emergency? If so, you've come to the right place. We'll discuss the most efficient way to scrub your oven when you're not a professional cleaner – keep reading!
What is the best way to clean the inside of an oven?
Like with any other kitchen chore (e.g., dealing with the mess inside and outside your fridge), you need to be thorough when cleaning the oven. Here are a few tips to point you in the right direction:
Take proper safety measures
You should first make sure you don't get injured when cleaning your oven. To do so, turn off the appliance and wait for it to cool down.
Mix a DIY cleaning solution using water and baking soda
There are many commercial products that are purpose-made for oven cleaning, but some of them are expensive. Others don't do nearly as good of a job as advertised. Luckily, you can stick to natural homemade cleaners, such as baking soda and water.
Combine half a cup of baking soda and a couple of tablespoons of water in a bowl. Stir with a spoon until you form a paste. You can replace baking soda with ammonia to produce the same effect. It's just as effective, if not more effective, than sodium bicarbonate.
Cover the appliance in your paste
Put on rubber gloves and dip your fingers into the bowl with baking soda. Take a generous amount and spread the paste all over the inside of the oven. Apply more mixture on grimy sections. If your paste turns brownish, that's completely normal.
Don't forget to apply the paste to your glass door too. It might have heavy grease build-up due to all the food preparation.
Let your paste sit overnight
Allow your baking soda combination to rest in the oven for about 12 hours. Additionally, take out the racks and dip them in soapy water. You can also let them sit overnight.
Wipe down your oven and spray some vinegar
After your oven has soaked in the paste for about 12 hours, wipe down the inside with a moist dish cloth. You can use a spatula to scrape off the dried paste in hard-to-reach areas.
Afterward, pour white vinegar into your spray bottle. Spritz the substance inside the oven to get a sparkling finish. And don't be alarmed when the baking soda reacts with your vinegar. It'll foam up, which is perfectly normal.
Give it another wipe-down
Perform one last wipe-down inside your oven with a moist cloth, making sure to get every corner and get rid of any lingering baking soda. If necessary, spray some more white vinegar and wipe until the appliance is shining.
Return the racks
Once your interior is clean and dry, wipe down your oven racks with a clean cloth. Dry them and place them inside the oven.
Why waste energy on chores when superior Holly Springs, NC, house cleaning services are readily available?
Deep-cleaning your oven can be a hassle, especially if you're busy or want to enjoy a leisurely walk by the Leslie-Alford-Mims House. You can avoid getting your hands dirty by booking Dust and Mop – the finest cleaning professionals in Holly Springs.
Reach out to us, and we'll scrub your oven quickly and efficiently. We can also clean stubborn stains from your kitchen cabinets and shine them before scouring your countertops, regardless of the material they're made of. We guarantee an impeccable kitchen. Book our qualified cleaners today!