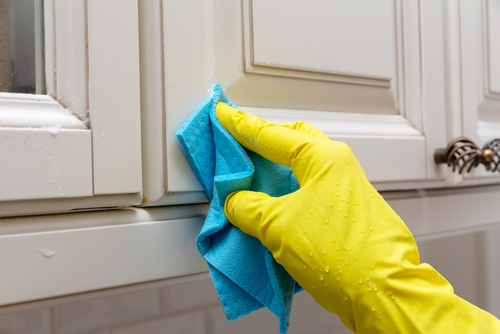 In today's fast-paced world, it's easy to overlook the profound advantages that come from a thoroughly clean living or working space. While regular cleaning keeps our environments presentable, there's a world of difference between a cursory tidy-up and a full-blown deep clean. The act of deep cleaning goes beyond surface-level tidiness; it dives deep into spaces often skipped during our routine touch-ups. It addresses the grime hidden beneath, the dust settled in unnoticed crevices, and the sporadic spill that's now a stubborn stain.
Investing in professional deep cleaning services we can rely on not only revives the physical beauty of our living environment but also introduces a myriad of benefits to our overall well-being and daily routine. Today, we'll delve into the six main benefits of thorough sprucing up and why it's well worth calling experts in deep house cleaning near you to take care of the process.
What are the main advantages of deep cleaning?
Even though deep cleaning may require more effort than regular tidying, the benefits are manifold, affecting not only the physical aspects of our spaces but also our health, mindset, and overall quality of life. As the old adage goes, "Cleanliness is next to godliness," and indeed, a deep-cleaned space can feel truly divine.
1. Enhances indoor air quality
Deep dive: Deep cleaning involves eliminating dust, pollen, and other allergens that accumulate in nooks, crannies, and surfaces over time. When neglected, these particles can severely impact indoor air quality.
The benefit: By thoroughly cleaning carpets, curtains, vents, and upholstery, you significantly reduce allergens and contaminants. This not only freshens the air but can also improve respiratory health, which is especially beneficial for those with allergies or asthma.
2. Extends the lifespan of surfaces and appliances
Deep dive: Daily wear and tear, combined with grime, can wear down surfaces faster than you'd think. Deep cleaning tackles areas that regular cleaning might miss, such as behind appliances or deep within upholstery.
The benefit: By maintaining these areas, you can extend the life of your appliances, flooring, and furniture. This not only saves money in the long run but also keeps items looking their best.
3. Eliminates harmful pathogens
Deep dive: Bacteria, viruses, and mold can lurk on surfaces, especially in moisture-rich environments like bathrooms and kitchens. Over time, these can grow and become health hazards.
The benefit: A rigorous deep cleaning, especially with appropriate disinfectants, can eliminate these pathogens. This ensures a safer living environment and can reduce the risk of illnesses.
4. Reduces stress and increases productivity
Deep dive: Clutter and mess can subconsciously increase stress levels. A disorganized environment can also make daily tasks more challenging and time-consuming.
The benefit: A deep-cleaned space is not just physically cleaner; it's mentally refreshing. This can lead to reduced anxiety, better focus, and an overall boost in productivity and well-being.
5. Upholds aesthetic appeal
Deep dive: Over time, neglect can lead to visible stains, discolorations, and a general sense of wear and tear in a living or working space.
The benefit: Deep cleaning can revitalize a space, making it brighter, more welcoming, and aesthetically pleasing. Whether you're entertaining guests, hosting a meeting, or simply relaxing, being in a pristine environment significantly enhances the experience.
6. Boosts mental clarity and creativity
Deep dive: Our surroundings greatly influence our cognitive functions. A cluttered, dirty environment can cloud our thoughts, hinder decision-making processes, and stifle creativity.
The benefit: By deep cleaning and decluttering, we not only achieve physical order but also pave the way for mental clarity. This renewed space becomes a breeding ground for innovative ideas, clearer thinking, and inspired creativity.
Which company is known as the leading provider of deep house cleaning near me in Raleigh, NC?
If you need someone to instruct you which tools are essential for thorough tidying, what not to do when deep cleaning, and which areas require meticulous attention before the winter starts, look no further than Dust and Mop. Our team of vetted and skilled house cleaners delivers a premium level of service each and every time. Backed by our 24-hour satisfaction guarantee, we've been helping the kind people in the wider Raleigh area maintain perfect sanitation for almost 15 years.
Whether your home is located in Hayes Barton or on the outskirts of town, we'll arrive on the spot promptly and go above and beyond to deliver a gleaming and fresh home where you can rest, relax, and snuggle up, knowing that every corner is cleaned up to the highest standards.
Reach out to us today!