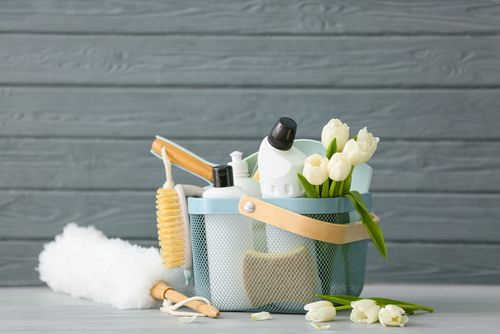 Deep cleaning is no small feat. To truly get into every nook and cranny of your home or office, you need more than just elbow grease – you need a bit of organization, cleaning know-how, and the right equipment. However, while there is no doubt that a deep cleaning process is essential for your well-being, it's the tools you choose that can really make a marked difference in the end.
People often ask how professional providers of deep house cleaning service in Raleigh, NC do such a good job. From ensuring the longevity of your surfaces to promoting a healthier living environment, the right tools not only simplify the task but elevate the entire cleaning experience. Equip yourself with the following essential pieces of equipment, and you'll find that the entire process becomes much more effective and efficient.
What tools are needed for a deep clean?
In today's blog post, we present 7 essential deep house cleaning tools that will not only ensure that every corner of your living space is addressed but also make the task more manageable and satisfying. After all, there's nothing like the feeling of a thoroughly cleaned and refreshed environment.
1. Microfiber cloths
Deep dive: Unlike regular rags or paper towels, microfiber cloths are designed to attract and trap dust, grime, and bacteria, ensuring surfaces are genuinely clean, not just wiped down.
Why it's crucial: They're reusable, eco-friendly, and can be used on virtually any surface without scratching or leaving lint behind. Moreover, their high absorbency means fewer streaks and more efficient cleaning.
2. Extendable dusters
Deep dive: These tools come with long, often telescoping handles, allowing you to reach high ceilings, fans, and other difficult spots.
Why it's crucial: Extendable dusters eliminate the need for dangerous balancing acts on chairs or ladders, ensuring you can tackle elevated areas safely and thoroughly. They also adapt to various angles, making them versatile for different surfaces.
3. Scrubbing brushes
Deep dive: These brushes have stiff, durable bristles perfect for tackling stubborn stains on various surfaces, from bathroom tiles to outdoor patios.
Why it's crucial: Their ergonomic design allows for effective scrubbing without causing strain or damage. The varying sizes available make them suitable for both broad strokes and detailed cleaning.
4. Steam cleaner
Deep dive: Steam cleaners use hot water vapor to penetrate deep into fabrics, carpets, and other porous surfaces, eliminating dirt, bacteria, and allergens.
Why it's crucial: They provide a chemical-free cleaning method that not only cleans but also sanitizes surfaces. This results in a deeper clean that is also kind to the environment and your health.
5. Squeegee
Deep dive: Often associated with window cleaning, squeegees are excellent for cleaning glass surfaces without leaving streaks or residues.
Why it's crucial: They ensure a spotless finish on mirrors, shower doors, and windows, enhancing clarity and sheen. Proper use also prevents water spots and mineral buildup.
6. Vacuum with attachments
Deep dive: Modern vacuums come with a variety of attachments designed to address specific cleaning challenges, from crevice tools to brush rolls for pet hair.
Why it's crucial: With the right attachments, a single vacuum can handle multiple surfaces and cleaning needs, from carpets and upholstery to hard floors and tight corners. This versatility maximizes efficiency while minimizing storage needs.
7. Grout and tile brushes
Deep dive: These brushes have a narrow design and tough bristles to scrub away grime and mold that accumulate in the grout lines between tiles.
Why it's crucial: Regular cleaning often misses grout, but with these specialized brushes, you ensure a comprehensive clean that makes tiled surfaces look refreshed and new. They also help prevent mold and mildew, common culprits in bathroom decay.
How can I get in touch with the best deep house cleaning service in Raleigh, NC?
As an established player that's become renowned for delivering high-quality house cleaning solutions in Ralegh and the adjacent area, Dust and Mop is proud of its 15-year outstanding track record. With free quotes, a fully-vetted workforce, and a satisfaction pledge that underlines our operation, we'll leave your place spick-and-span whenever we get the chance.
If you're wondering what are the main perks of thorough house cleaning, which mistakes people usually make when deep cleaning, or which areas you should tackle before the cold weather arrives, we'll answer all these questions and a whole lot more.
Whether your residence is in Boylan Heights or any other part of Raleigh, we'll arrive promptly to demonstrate our unique approach. Give us a call today and you'll quickly enjoy a spotless shine!