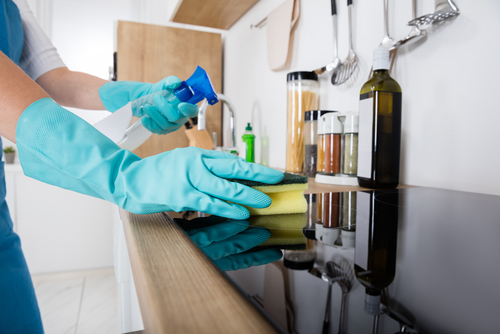 Suppose you're throwing a Thanksgiving dinner, but your house is in disarray. You forgot to hire maid services in Lake Norman, NC, to clean up the place, so you need to do the work yourself. The pressure mounts, and you forget another crucial thing – wearing protective equipment. As a result, there's a higher risk of injuries and canceling your gathering. 
Fortunately, you can easily prevent this scenario. To help you do so, we'll list the six best tips for cleaning your home safely – keep reading! 
How do you protect yourself when cleaning? 
Safety matters most with any chore, whether you want to rid your attic of thick dust and grime or deal with garage mess the right way. Here's how you can avoid health hazards when cleaning your abode: 
Put on some protection 
Colonies upon colonies of microbes lurk behind every corner. You can easily catch them and come down with a cold. The best way to stay safe is to wear a pair of gloves. 
Also, put on a mask and glasses if you're cleaning a particularly dusty area, such as your attic. 
Don't use toxic cleaners 
There are many toxic cleaners you should avoid. Primarily, steer clear of ammonia-based products because handling them properly can be tricky. Instead, use sulfite and oxygen-based detergents. 
Even better, rely on mild homemade cleaners, like baking soda, soap, and vinegar. They go easy on your skin and aren't toxic chemicals. 
Do your due diligence 
Allergies brought about by harsh substances force many homeowners to use common household cleaners, such as lemon, natural oils, and vinegar. However, you need to do some research before brewing a new mixture because not every combination is suitable for all surfaces. 
For instance, you should use vinegar on the following surfaces: 
Determine what other substances don't mix with, so you can avoid them. 
Read labels 
When attempting to remove any type of dirt and stain, make sure you have the right product. Pay special attention to commercial products labeled "dangerous," "warning," and "caution." Check the instructions to reduce the risk of unwanted reactions. 
Also, keep your cleaners in their original containers. 
Don't overuse antibacterial soap on food preparation surfaces 
Many people overly rely on antibacterial soaps, especially when disinfecting food preparation areas. However, overusing them can be just as dangerous as using toxic chemicals. Therefore, don't employ them all the time. 
Use antibacterial products only when preparing raw eggs, poultry, and other types of meat. Additionally, you can apply certain amounts to sanitize dishes if someone in the family is ill. Never clean your cutting board or dishes with bleach or other harsh substances. 
Recruit your family 
You get tired pretty quickly if you're cleaning multiple rooms on your own. At some point, you may lose your focus due to fatigue and fall. 
The solution is simple – have your family members pitch in. Assign duties appropriate to their age and skillset to breeze through chores and stay safe. 

What's the best way to clean my home? Book the top-tier maid services in Lake Norman, NC, for peace of mind!
You probably lead a busy life in your Lake Norman household. Besides cooking and taking care of kids, you also need to ensure your home is pristine. But what should you do if you don't have the time or you'd rather visit your neighbors in Cornelius?
The answer is simple – outsource the work to trained professionals at Dust and Mop. Our qualified experts leave nothing to chance, so have no doubt they'll scour your place thoroughly without making any mistakes. Schedule your appointment today and our specialists will sweep you off your feet!