Maintaining crystal-clear windows is an essential aspect of home care that brings a sense of freshness and openness to your living space. In Raleigh, where many residents choose to rely on a recurring home cleaning service for help, professionals usually use specialized equipment and their own high-quality products to achieve that perfect shine. 
But what if you want to know how to tackle the task yourself? Whether you wish to spruce up your windows in between professional visits or prefer a hands-on approach, you don't have to spend a fortune. With some tips, you can create homemade window-cleaning products that are quite effective, often using ingredients already available in your kitchen. We'll explore some of these formulas below.
How do I make my own window-cleaning solution?
Windows serve as the eyes to your home's soul, and maintaining their clarity and cleanliness not only enhances the aesthetic charm but also infuses your living spaces with brightness. Yet, residing in an area where urban bustle mingles with natural beauty, while generally delightful, demands confronting both city grime and dust.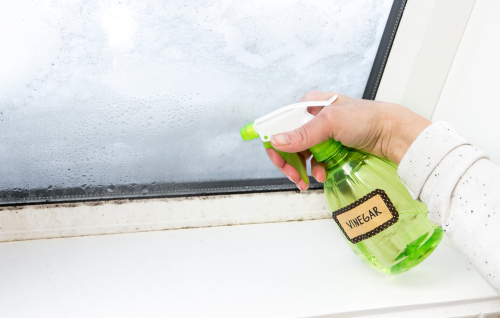 Fortunately, with the help of some useful window cleaning tips like crafting your own green cleaning formulas using common household items, selecting the tools to use for window cleaning, and knowing how to choose the right time to clean your windows, you can ensure that your glass panes are always at their best.
A basic mixture for everyday shine
One of the simplest ways to keep your windows bright and smudge-free is a mixture using vinegar. Combine one part white vinegar with one part hot water in a spray bottle, and your solution is ready. This mixture cuts through the city grime with ease. The smell of vinegar dissipates quickly, leaving no trace behind, except crystal-clear windows.
Alcohol solution for a streak-free finish
Looking for a more potent formula to restore the shine to your windows? Try an alcohol-based solution. Combine one cup of rubbing alcohol, one cup of water, and a tablespoon of lemon juice. The alcohol acts as a powerful solvent, breaking down stubborn dirt, while the lemon adds a fresh scent and some extra grease-fighting power. Spray and wipe with a soft microfiber cloth for a streak-free finish.
Cornstarch for tough grime
Sometimes, windows need a little extra effort to get them to shine. Cornstarch can be your ally in these cases. Make a paste with half a cup of cornstarch and a quart of warm water. Apply this paste to the windows using a sponge, then rinse and wipe dry. Cornstarch acts as a gentle abrasive, helping to remove tough grime without scratching the glass.
Emergency spot care with baking soda
Accidents happen, and sometimes you might find a spot or stain that requires immediate attention. For such cases, a paste made of baking soda and a small amount of water can come to the rescue. Apply the paste to the spot, gently rub, then rinse. Baking soda is another mild abrasive, effectively removing the stain without harming the window.
Who in Raleigh, NC, can I rely on for a high-quality recurring home cleaning service?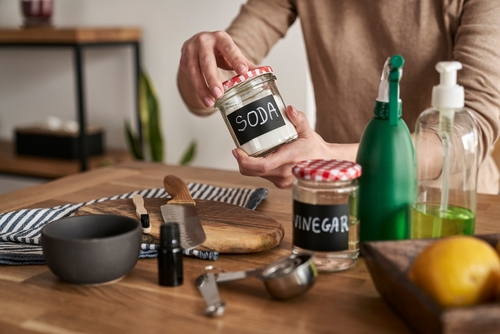 While a hands-on approach and homemade formulas are a great way to go, that perfect window shine is best achieved and maintained by relying on the experts. We at Dust And Mop are here to help you with this task! Our skilled cleaners are trained in the latest techniques, utilizing high-quality tools and products to ensure your windows are always at their sparkling best.
Whether you're located close to Pullen Park or elsewhere in Raleigh or the area, our convenient and efficient services cater to all neighborhoods. Trusting our specialists ensures not only a thorough job but also saves you time and effort. Let us show you why we're a trusted name in the industry. Call us today to schedule a consultation, and leave the hard work to the experts!