Dependable Move-In & Move-Out Cleaning in Charlotte, NC
Let us ensure your new home is spotless, or your old place is left pristine. We are your dependable partner during your relocation process.
Our reliable solutions provide peace of mind
Our move-in and move-out cleaning services in Charlotte are designed to ease the stress of relocation while providing an exceptionally tidy living space. We provide a detailed service that goes beyond regular upkeep to ensure both your new and old homes are sparkling. This comprehensive approach includes a deep tidy-up of all rooms, appliances, fixtures, and fittings. We help turn an often stressful relocation day into a more enjoyable experience.
We handle your move-out & move-in cleaning in Charlotte with professionalism
When you are relocating, you have enough on your plate. Our professional team can handle the task of move-in and move-out cleaning, freeing you to focus on the more personal aspects of your relocation. We are a team of trained professionals who are dedicated to meeting and exceeding your expectations. With our help, you are assured of a thorough scrub-down, leaving no corner untouched.
We invest in the latest equipment and solutions to ensure we provide the most efficient and effective move-out and move-in cleaning service for your relocation in Charlotte and its many neighborhoods, including Eastover, Ballantyne, Piper Glen, Oxford Hunt, Montibello, Providence Park, Montford, Starmount Forest, Quail Hollow, Matthews, Madison Park, Southpark, Foxcroft, Governor's Square, Myers Park, Beverly Woods, Stanley, and Pineville. Whether it's stubborn stains, hard-to-reach nooks, or deep-seated dirt, our team is equipped to handle it all. Our goal is to ensure your home is not just visibly tidy but truly deeply cleaned, ensuring a refreshing start in your new space or the same for the new occupants of your old home.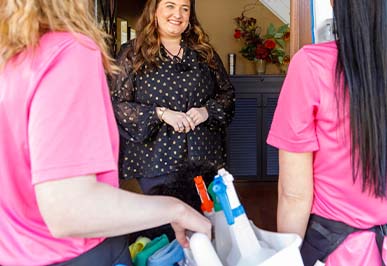 Your satisfaction with our move-in/out cleaning is our #1 priority
With our team, you are choosing reliability, thoroughness, and attention to detail. We understand that every home is unique, so we customize our approach to meet your specific needs. We pride ourselves on our exceptional relationship with customers, always striving to exceed your expectations. You can trust us to handle your move-in or move-out cleaning service in Charlotte with expertise, providing you with a fresh, healthy, and comfortable environment to settle into or leave behind, regardless of whether you're relocating to or from Montibello, Piper Glen, Oxford Hunt, Foxcroft, Beverly Woods, Quail Hollow, Pineville, Matthews, Monford, Providence Park, Southpark, Myers Park, Governor's Square, Stanley, Madison Park, Ballantyne, Eastover, or Starmount Forest.
Frequently Asked Questions